Search Engine Optimisation SEO
The aim of Search Engine Optimisation (SEO), is to generate high quality visitors to your website from search engines. It is a vitally important task associated with digital marketing, and a constantly evolving environment.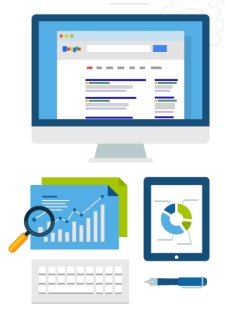 Long gone, (thankfully) are the days when a business would simply put together a website, and purchase thousands of reciprocal links to get them to the top of the search engine rankings. Today, SEO relies on high quality content that is both shared and engaged with.
Ideally, SEO is considered right from the formation of your business. The domain name you choose is a building block to achieving the online presence you want to achieve. Your website design or redesign should pay attention to SEO throughout its development.
Determining your target audience is crucial to SEO success. If you are trying to promote your business locally it is vitally important to ensure you rank for local factors, for example using the services Google provides for businesses to verify your address and add a business listing. Getting your business optimised for local maps can make a massive difference to how much custom you can generate from your local area, and how high you appear in the search results.
SEO can help your business increase its online presence whether you are a small business or a global company. You can can optimise your site for particular demographics and get found by your prospects.
It isn't just about search engine rankings, SEO optimisation methods provide your audience with more ways to discover your business online. Unless people can find your website it is useless – no matter how much you have invested in the design.
Meemo Digital has been producing websites and building skills and experience with SEO since 2003 for both business to business (B2B) and business to consumer (B2C) websites. Working together with your business, whether it is an existing or new website, we develop a digital strategy to maximise your SEO opportunities. Meemo Digital have promoted several websites that have held the number 1 Google ranking for keywords for 8 years running.