Ever since the early days of search engine optimisation, (SEO) there has been a constant battle. A battle between those trying to get their websites to the top of the organic page rankings by any means possible, against the search engines themselves, who want to provide meaningful results to those that use their services.
For organic, (natural – not paid for) results search engines use algorithms to decide how to rank websites and individual web pages against searches for particular keywords or phrases. At the dawn of the search engine these algorithms were very simple in comparison to how they calculate the worth and relevancy of results today. There are over 200 factors that make up the algorithm that Google uses to rank results.
Once upon a time it was simple. Get as many links as you could and you had a pretty good chance of getting close to the top of the search results. There was a entire industry setup around the process, link farms selling links to websites to help them climb the rankings. The industry isn't dead, it's still alive and kicking, but it's a battle that means using these tactics for a quick gain can result in your website being penalised. Once a website is penalised it can be very difficult to climb out of the hole, and can be devastating for a business that has used these tactics.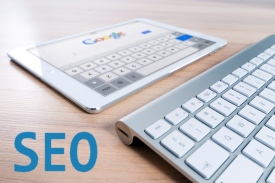 This doesn't mean SEO is dead, it has just evolved. Successful and reliable SEO can no longer be carried out via a quick fix, but requires long term planning and a lot of hard work. It is a continuous process with rewards for fresh, quality content. Because the algorithms are constantly changing it means there is a high chance of quick fix black hat tactics being caught out. As a result SEO practices amongst reputable companies has had to evolve. The key to long term SEO is providing up to date content aimed at a human rather than beating an algorithm.
It isn't just search engine algorithms that are constantly evolving, social media is playing a bigger part than ever in promoting your business online. The coverage your business has across social media channels already plays a huge part in SEO, and I can only see this increasing in the future. To a large extent the social media channel is the search engine of the future, more and more people are bypassing the traditional journey of discovering your business through its website, and instead are engaging via social media channels.
Successful SEO is a long term investment. No matter how much effort you put in when you originally create a website, it will not continue to build or climb the rankings unless you dedicate ongoing resources to it. Links and engagement are important, and you should aim to obtain these in a natural manner rather than 'buying' them. A website with stale content will gradually fade away, you can be sure that if you are not providing your audience with up to date relevant content, then your competitors will be.
Building successful reviews over time can be a great help to SEO, particularly for local optimisation. A policy in place to encourage your customers to review your product or service is an excellent way to maximise your SEO, as well as allowing your business an opportunity to achieve  continual improvement.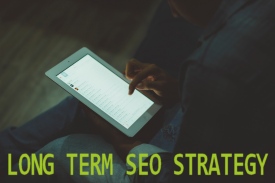 Long term SEO planning also allows your business to stay one step ahead of the game. It makes it easier to provide your audience with a variety of content, along with keeping up to date with new trends or technology. Along with standard blog posting, it is sensible to consider other mediums by which to communicate, such as infographics, videos and podcasts. Any current SEO plan should pay a great deal of consideration to optimising for mobile devices, due to the ever increasing number of searches performed via this method.
The days of just creating a website and sitting back expecting it to climb the search engine rankings are gone. Your business should be planning to create regular content. Content that people want to share. Content that is relevant and informative to your audience. Content that people want to engage with. Content that demonstrates you know what you are talking about. Content that makes your business stand out from the crowd.
If you would like any help with your long term SEO strategy get in touch with Meemo Digital.
Meemo Digital Ltd is a website and digital consultancy company, with a focus on getting to know our customers, and helping you unlock your potential.
Request a free analysis
Meemo Digital offer professional website and digital consultancy services, working together with you to develop a tailor made digital strategy for your business.
Subscribe to our newsletter!
About this blog
Meemo Digital Ltd is a website and digital consultancy company, with a focus on getting to know our customers, and helping you unlock your potential.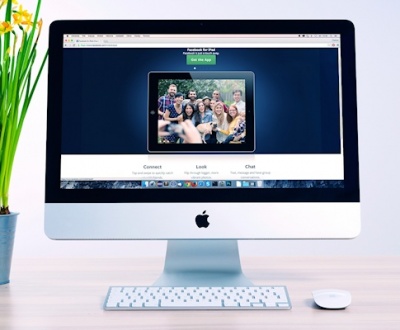 I was talking with a good friend of mine last night about…